Summer is leaving us already, but before the season ends, you can throw a final barbecue party in your backyard. It's not too late to share drinks and unwind with friends while enjoying the warm weather. Don't know where to start the planning process? That's where this article comes in! These ideas and tips will help you host the ultimate end-of-summer barbecue.
Incorporate something out of the box
Of course, the traditional backyard staples are great. But, if you want your final backyard barbecue to be memorable, try thinking of a fun twist or element you can add.
You could incorporate any fun activity, from an outdoor movie to a giant slip-n-slide. You and your friends will have a blast doing something different besides eating and drinking. With these add-ons, you'll have the most unforgettable summer barbecue.
What's a barbecue party without these?
As much as your barbecue is the major highlight of the night, there is something else your guests will focus on– the drinks! If you're not so confident in your grilling skills, your choice of drinks is a great way to keep your guests satisfied.
There are plenty of summer cocktails that are tasty and refreshing. Offer up some watermelon rum punch, pineapple mojitos, or peach margaritas. Or, save your guests the trouble of deciding, and offer them all!
This is a major part of an unforgettable BBQ
Whether you and your friends sit, stand, or do activities, it's crucial to set the mood. Your BBQ party isn't complete without a dope playlist. You could dedicate the DJ duty to your music-savvy friend or organize a summer playlist yourself.
If you're creating the playlist, don't be afraid to pull out some old-school favorites. You could add songs by The Beach Boys or any other singer your clique loves to vibe to. 
Portability is key
Holding onto a plate of food at an outdoor party can be awkward. If you set it down, you may forget where it is, and bugs can get at it, or someone might think you're finished with it and throw it away.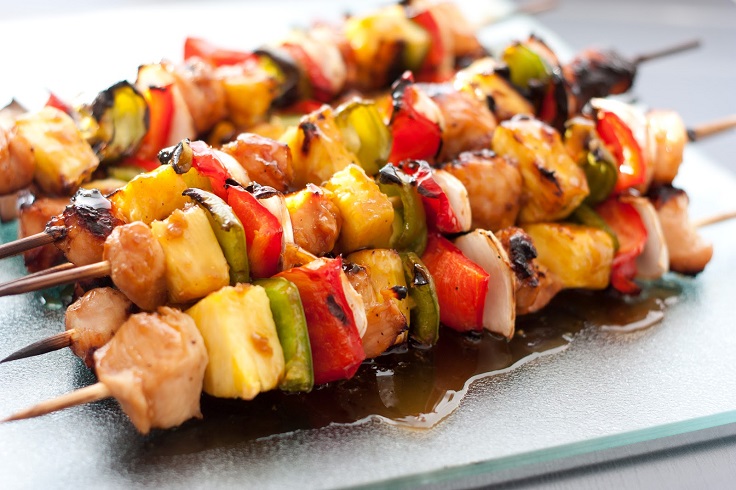 As the host, focus on foods that don't need plates. You can skewer various veggies, meats, appetizers, fruit, and sweets. Or let guests make their own. Provide bowls or platters of bite-sized items along with plenty of skewers.
Creating the perfect ambiance
You can rarely paint a mental picture of a BBQ party without string lights and torches. Install extra lights around your patio or deck for the right touch of ambiance and visibility as night falls. But be sure to watch young children around the torches.
These lights also help drive away mosquitoes and other insects. Aside from lighting, seating is also important- people will want to sit down. Have plenty of chairs and benches around, and fill in with picnic blankets. If you are feeling ambitious, build your patio chairs.